There are not enough hours in the day! How many times do we say or think this, as we try and juggle work and family commitments, feeling guilty about never getting the balance quite right.
As some of you may know, most of my waking hours are consumed by attempting to get Affcot Lodge ready for the looming opening date of 25th June. That's less than 4 weeks…gulp! What if we're not ready? We've got to be ready it's as simple as that!
And then what? It seems that my new life challenge will be to ensure the smooth running of large pub/restaurant with12 B&B rooms!! I relish the prospect, even though I'm sure I'll have to overcome many teething problems. It's amazing how your life can change so dramatically without warning. Two months ago becoming a publican was the last thought on my mind but this unexpected opportunity has been placed at my feet for some reason so I intend to make the most of it. If nothing else, I'm sure it will be a rich source of material for my second novel and I'll make sure that there is a notebook behind the bar to note any gems of inspiration!!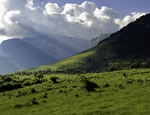 "Life is something that happens to you while you're making other plans."
Margaret Millar
The downside, of course, is that my writing has had to take a back seat and I'm upset that I'm not giving the Ragleth Writers Group my full attention. This wonderful group of people will be supportive of my predicament, I know. And the reason I am so sure of this fact is that, as well as being very talented individuals, they are also trying to juggle their love of writing with their own health/family/work commitments too!
During our last meeting we concentrated on how we sell our work, or more importantly, how we sell ourselves. People don't just buy books they buy authors!
It is imperative that we get ourselves out there, raise our own profiles. Socialise. Book signings, Twitter, Blogging, Facebook all help. Know your target audience and aim your promotion at that genre. Also, as John Welsh discovered, make sure our books are in the correct section of the bookstore!
We were joined last month by Martin Nicholson, a fascinating author of the Biggles Companion and surely foremost authority on postcards of South Africa as well as being an avid amateur astronomer. His photographs using telescopes based in America are truly stunning. I think he liked us too and hopefully we'll see him again at our next meeting.
After three meetings the group is going from strength to strength and I'm in awe of the resilience and determination each member possesses -I'm proud to be a part of it! Life will throw hurdles in our way and sometimes we will feel like giving up but as long as we are prepared to negotiate our way through the trying times, helping each other wherever possible, the stronger we will become.
Looking forward to our next meeting on Monday, 13th June. See you there folks x